You are using a Lenovo brand laptop with a relatively strong and durable battery. However, you still need to charge it.
Unfortunately, you forget to bring your laptop charger. You might mess around not knowing how to charge, and you see a USB-C port at your desk. 
So, can I charge my Lenovo laptop with USB-c? The answer is Yes because the USB-C port is quite compatible with Lenovo's power adapter. 
Let's read on to know more details!
USB-C Overview
Maybe you've heard a lot about this USB-C, but you still don't understand it.
USB-C is a newer version of the previous USB-A or USB-B. It is also known as USB Type C with a 24-pin connector system capable of transferring power and data in parallel with just one.
With standard USB 3.2 connectivity and strong data transfer capabilities, this USB-C can charge intelligent electronic devices such as phones or laptops.
Moreover, USB-c can replace different ports such as HDMI, power charging port, VGA, Mini DisplayPort, USB. For more details, you can watch more in the video below:
Source Youtube PCMag
Can I Charge My Lenovo Laptop With USB-c ?
As we mentioned earlier, the USB-C name is capable of high-speed transmission with a maximum speed of 20Gbps and transmit power up to 100W.
Besides, you need a replacement device that can send a large enough power to charge a laptop. That's why USB-C is a perfect choice when you need to recharge your computer.
In addition, some Lenovo laptops also support USB-c, so charging with this USB is entirely compatible.
Before talking about how to charge USB-c with a laptop, we noticed that many readers often wonder about USB type A and wonder if it uses a laptop charger or not? We confirm that you cannot charge it.
Unlike USB-C, USB Type-A cannot provide enough power to transfer a large amount of energy to your laptop. With a maximum transmission capacity of 10Gbps, maybe it is more suitable when you use it to charge your phone.
How Do I Charge My Lenovo With USB-C?
Many users wonder and have trouble using USB-c to charge their laptops. But it's straightforward, and we don't think it will take you a minute to do this.
Usually, with a mid-range Lenovo laptop, we think it already has a compatible USB head or even a USB-C head as the primary source.
Your job is to make sure that the plug adapter is compatible with it (you can ultimately use the plug of your smartphone).
When you're ready, you need to plug one end of the USB-C into the laptop and the other end at the power source and charge it.
It's quick and straightforward. You'll probably struggle when you first start using it. Your job now is to wait for it to be fully charged.
Notes When Charging A Laptop With A USB-C Port
Not only Lenovo but many laptops on the market can be available with a USB-c port. Sometimes some machines are equipped with a USB-C connector, typically the Macbook Pro.
However, when using with USB-c that you should pay attention to:
First, make sure your device has the correct plug adapter before you intend to charge with USB-c. If you choose the wrong or inappropriate head, you will lose time and get no results.

If your laptop has a USB-c power connector, it should not be abused to charge too much; use it when needed. 
Some Other Ways To Charge Your Laptop
There is more than one way to help you charge your laptop when you accidentally forget to bring it with you.
Although it is not as convenient as using USB-C, we think you should know the following ways to give you more flexibility in many cases.
Charge with a backup battery
Using a backup battery is not too bad a method if you forget to bring your laptop charger. We think you might have tried using it to charge your laptop. Extremely simple and almost similar to when you set your phone battery.
You need to use a compatible charging cord to connect the power bank to your laptop. However, using a power bank will prolong the charging time and make it difficult for your computer to be fully charged.
You will come across many power banks on the market, but not all chargers are suitable for your laptop. So choose a power bank with a USB C connector to provide enough capacity and power for your laptop.
Charge with car battery
Another fantastic way for you to charge your laptop is to use the battery in your car. It is extremely reasonable when traveling on the road and suddenly realizing you do not have a charger.
It is also straightforward. But of course, you need to make sure your car has a USB connector. Your job is to connect the USB from the car to the laptop.
However, you may find this a good practice, but be extra careful by unplugging your computer after you've got off the bus. Because the laptop can overheat or you may lose it if you leave it in the car forever.
Charge with super battery
Compared to using a power bank or car charger, we think this method should be available when you have no other choice when the case is too urgent.
Like a power bank, you need to choose the correct charger and choose the same super battery with your laptop because maybe if you use another brand with your computer.
In fact, this method is not nearly as effective, and you should consider it before using it.
Charge with universal power adapter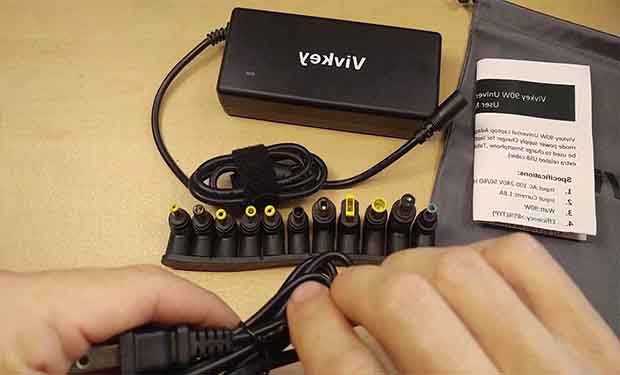 One last way to charge the battery we would recommend is to use a universal adapter. However, this way is not optimal, although some laptops may already have a power adapter.
The versatility of this tool is a drawback because your laptop can die suddenly, although this situation is quite rare. So use these when you need them.
How To Properly Charge A Laptop Battery?
Here are a few methods we think you should know to properly charge your laptop battery and extend the life of your laptop:
You can charge the battery at any time but avoid charging it overnight.

Avoid overheating the device as it will shorten the life of the battery. When using it for more than 3 hours, let your device rest for 5-10 minutes.

Be sure to use the correct charging cord for you. If using another brand, your laptop quickly faces the risk of fire.
Besides paying attention to proper battery charging, you need to clean your laptop regularly (about six months or one year) to preserve it better. 
We receive many questions and inquiries from readers about using USB Type C and many questions related to it. Maybe you are just as confused as they are. So, let's find the answer with us right now:
Which is faster, USB A or C?
The difference between USB Type-A and USB Type C is the charging speed.
If the charging speed of USB-A is 10Gbps, then the charging speed of USB-C is up to 20Gbps. The difference is double, and the answer to this question is USB-C because it can transmit immense power up to 100W.
However, when comparing two USBs, you can choose different users for each type, so choosing USB-A for phones is not too bad.
Can I charge my laptop with a phone charger?
You can, of course, use your charger if your phone charger supports the USB-C connection. But usually, some devices only support USB-A, which makes it impossible for you to use the phone's charger to replace the laptop charger.
How many times should you charge your laptop a day?
This question received a lot of attention from users. However, depending on how long you use the laptop, to be able to align the number of charges in a day.
The reality is different from the phone. You can charge the computer at any time, but we do not recommend charging it overnight.
Finally, before closing, we always hope that you have understood a lot of necessary information and have answers to questions about your laptop.
If you have any questions, please leave a comment after reading this article. We welcome any comments and hope we can help answer your questions.
Thank you for reading!
Read More :
1. The Best HP Laptop Under 500$ for 2022 | Reviews by TopReviews
2. Best Gaming Laptops Under $1500 - 2022 Reviews & Buyers Guide
3. The Best Dell Laptops Under 1000$ You Can Buy Right Now